This Bey is not meant to be used in RPB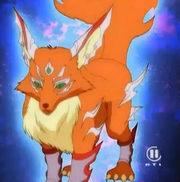 Wildfox 2 is an attack-type bey and the 4D system evolution of Wildfox from Beyblade Vforce, and is currently at sale at 98Eagle's Beyblade Shop
Face Bolt: Wildfox
Edit
This Face Bolt has the Bit Beast Wildfox in it on a red face bolt. When commanded, it can clone itself at will into three beys.
4D Fusion Wheel: Wildfox
Edit
This wheel has three Fox heads on it that raises up a bit much like the Hell wheel,
PC-frame:
The PC frame has two blue foxes on it that goes in a rightward circular movement with claws on it that can make slight smash attack.
Core:
The Core has three fox heads on it made of metal that can deal powerful attacks, but they are raised up a bit so it has not so good defence, but it has good stamina and attack. It is gold in colour.
4D Performance Tip: Blaze Buster
Edit
This 4D tip is pretty bulky with good attack and balance, and can use the heat around it to power it's attack.
Despite being a 4D system bey, it cannot mode-change, instead it has it's bit beast that can clone the bey into three beys.
Ad blocker interference detected!
Wikia is a free-to-use site that makes money from advertising. We have a modified experience for viewers using ad blockers

Wikia is not accessible if you've made further modifications. Remove the custom ad blocker rule(s) and the page will load as expected.