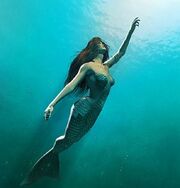 This Bey is not meant to be used in RPB
This is the queen of water.It is owend by Loubang my character name A.K.A Death Eagle aka lugonewa.Loreli is a ballance type bey.
Face Bolt:Loreli
The face bolt depicts of Loreli the sirens that lured sailors in with their songs. The face bolt shows an eye with a crescent moon in the pupil.
Energy Ring:
The energy ring is blue with the hair designs of Virgo & the waves of Cetus.
Fusion Wheel: Whirlpool
The Whirlpool fusion wheel is two spiral fusion wheels layered these spiral fusion wheels are free spinning to evade attacks.
PC Frame
It's identical to the metal frame.
Metal Frame
The metal frame is like the Spiral Fusion Wheel but free spinning.It also has bits of spiral above and bellow the whole .When flipped over it becomes left spinning because Whirlpool Loreli is left & right spinning. When Whirlpool is le ft spinning its in Stamina Mode, when it's right it's in Deffense Mode.
Core
The core is a disk to keep the rest of the fusion wheel in place it also has a rod for the PC Frame & Metal Frame free spinning.
Modes:
Stamina mode
Defense mode
4D Bottom: Aerial Force
Half is white/blue is black. It is a modified version of UW145, DF145,as well as T125. It has 4 blades (Like DF145) that can be turned up for maximum attack and down for good defense/stamina. As well as those, it is possible to turn it so far up that it can float. The bottom of it is similar to EWD.
special moves:
tsunami slicing breaker
whirling tsunami typhoon blast
omega disending dive
stats.
defense 30 stamina 30 speed attack balance 30
Ad blocker interference detected!
Wikia is a free-to-use site that makes money from advertising. We have a modified experience for viewers using ad blockers

Wikia is not accessible if you've made further modifications. Remove the custom ad blocker rule(s) and the page will load as expected.