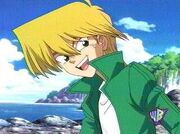 ultra was raised in a very poor family. ultra started learning how to beyblade from himself. ultra is not that good but ultra is still learning.
ultra owns these primary beys: alfa pegasis and stun crow.
one day during a battle with yuki after anubis used his special move part of the legend energy inside anubis went into alfa pegasis and ultra became an oko legend blader. oko legend blader means that a legend blader gave you legend blade power. when ultra launches one of his primary beys he goes into oko legend blade form.
first and only battle (so far)
Edit
ultra battled kid with his alfa pegasis. kid battled with his hell canine bey. it was a fard long battle in the cage arena. but the battle was a draw.
daily life
Edit
ultra is still excited for his next battle to come and no matter who the winner is he is a good team player. ulta is in the mist of creating a very powerful gear that will be sold soon.
Ad blocker interference detected!
Wikia is a free-to-use site that makes money from advertising. We have a modified experience for viewers using ad blockers

Wikia is not accessible if you've made further modifications. Remove the custom ad blocker rule(s) and the page will load as expected.