tucan faceEdit
face depicts a tucan shadow with a vibrent beak the red eyes look sa if staring to your soul it is one of 88 constalations
tucan clear wheelEdit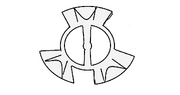 it is a clowdy white three winged clear wheel it has incredible defence and stamina abilaties on each wing it has a slanted begining to produce better areo dinamicks great for stamana costomisations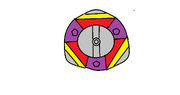 metal frame three curved wings that look simaler to a tucans beak each one has 3 stripes one stripe is red the other one in the middle is yellow the one at the endit is left bare so the stickers dont ware
pc frame dark purple three winged pc frame it has bright orange stickers.it is in the middle of the 4D metal wheel it has sheild designs with a plus ingraved in the center.
core
a round thick heavy three winged metal piece. Simalar to a uranas core only that it just adds weight and keeps the whole thing together.
rubber drive goes from rubber wide defence to rubber flat tip
RWD: Rubber Wide Defense (RWD), as it's name implies, is the widest of the Defense Performance Tips (D, SD, PD, EWD, W²D).Only rubber. When compared to D, is still contains the gear-like shape and is of course wider with the Sharp tip wider and taller as well.
the rubber of the tip creates friction to grip the ground. but because it is rubber it slows down faster than a usaul WD.
RF:RF, as its name implies has a flat, hard rubber tip, with a small indentation on the base of the tip. Its tip has just about the same width as WF, and is the second highest Bottom next to HF/S, which makes the second shortest Track, 90, particularly useful in combination with this partThis tip is great for attack customisations. It is rubber which gives grip on the stadium floor, providing it with more defense and allowing Beyblades to move around the stadium, fast. like most other attack bottoms, Rubber Flat has poor stamina, so it has to beat the opponent in a very short amount of time.This RF is coloured blue with a rubber tip which is red. After extensive use however, it'll wear down but slower than R2F(Right Rubber Flat).As the tip wears down it'll perform like a balanced tip with some aggressive movements and when the other bey hits it , it'll act offensive with some amount of increased stamina. After the tip wears down, it become more easy to control the bey. The attack power will decrease slightly too. But, It's Smash attack increases. since it changes modes the rubber flat has a whole in the middle.
abilatiesEdit
-flame sheld- rubber tip creates frcton and makes a sheld of fire in various colers the aka tucans beak
THIS STATS IS OBSOLETE AND NO LONGER USED.
Sheild tucan R:D's Statistics:
| | | | | |
| --- | --- | --- | --- | --- |
| Attack | Defense | Control | Stamina | Speed |
| 50 | 130 | 40 | 70 | 40 |
Ad blocker interference detected!
Wikia is a free-to-use site that makes money from advertising. We have a modified experience for viewers using ad blockers

Wikia is not accessible if you've made further modifications. Remove the custom ad blocker rule(s) and the page will load as expected.