This Bey is not meant to be used in RPB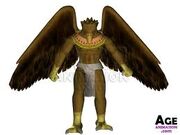 Ray Pegasus M145F (also known as Pegasus 2.0) is the guardian beyblade of Dan of Aquos in Beyblade: RX.
Special moves
Edit
Pegasus Maximum Striker: Pegasus keeps hitting the opponent until the other bey stops spinning.
Endurance Mode: Pegasus goes into a defensive pattern.
Dark moves
Edit
Sonic Destruction: Reduces opponent's bey's balance and stamina.
Face bolt: Pegasus
Edit
The face bolt depicts Pegasus, one of the 88 constellations in space. The design resembles the Cyber Pegasus face bolt, but instead of PS, it says 2.0.
Energy ring: Pegasus
Edit
This energy ring resembles the Galaxy ring but with the words 2.0 printed on the sides.
Fusion wheel: Ray
Edit
The Ray wheel is big on smah attack but low on retaining stamina.
Spin track: M145
Edit
This spin track is great in attacking, but when you move the tip to the left or right, it is shown to have decreased spin power.
Preformance tip: F
Edit
It is good in retaining attack power, but slow in terms of defense, balance, and stamina.
Ray Pegasus m145
Attack
Defence
Balance
Stamina
Speed
55 Moderate
40 Low
40 Low
11 Low
50 Moderatwe
Ad blocker interference detected!
Wikia is a free-to-use site that makes money from advertising. We have a modified experience for viewers using ad blockers

Wikia is not accessible if you've made further modifications. Remove the custom ad blocker rule(s) and the page will load as expected.