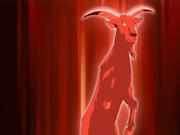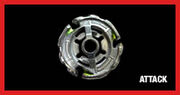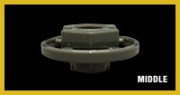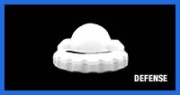 Ray Capricorne is the Twin of Ray Unicorno. The owner of this bey is Anu Su. Ray Capricorn could destroy anyone in its path if it wanted to.
Face Bolt: Capricorn

Edit
The face on this beyblade depicts a Goat, which is represented by Capricornus, one of the many zodiac signs. It is in a bright pinkish red color and it looks like two goat horns on each side.
Energy Ring: Capricorn

Edit
[1]Capricorn energy ring on the 2 sides of the wheel are heads of a goat. On some sides of the ring,there are jagged spikes. Those spikes are good for hitting beyblades.
Fusion Wheel: Ray

Edit
Ray has a three-winged design like the Storm Wheel in which, each wing has two square-like indents. Ray has some considerable Smash Attack attributes largely shown at high spin velocities. It is still outclassed by other Fusion Wheel such as Lightning, Vulcan, and Blitz. It does have some recoil but this can be stopped with a Metal Face Bolt or a Rubber Flat. Overall, Ray is a decent Fusion Wheel but is outclassed.
Spin Track: Extreme Down 125

Edit
XD125 features 1 circular small shield-like circle that goes out of the Track body. The ring is meant to protect from low attackers but is no use due to no attackers being low enough to reach under the 125 Spin Track. It does, however, add to the overall weight and therfore has uses. It is viable for use in Stamina and Attack customizations.It also adds a little defensive power.
Performance Tip: Extreme Wide Ball Flat

Edit
Extreme Wide Ball Flat is pretty much Wide Ball with a larger spherical surface, hence "Extreme", It is also flat a little bit. Due to this, it is an improvement over Wide Ball in terms of Balance. This is because of the greater surface area in contact with the Stadium floor at any one time. However, because of this wider contact area, the Bottom also causes more movement compared to Wide Ball. This is disadvantageous when facing an Attack-Type, because the Defense customization is closer to the Stadium exits, hence increasing the chances of a KO.
Special Moves

Edit
Wind Reverse Wipe -This makes Capricorn spin Left instead of right thus making it suck up the power of its oppoenent. This also changes air current.
Abilities
Edit
Flying Axe -Basically acts like a goats horn and strikes oppenent
Cosmic Lightning Sword Flash -Shoots lightning into stadium making all beys on stadium paralyzed except for Capricorn.
THIS STATS IS OBSOLETE AND NO LONGER USED.
Ray Capricorn XD125 XWBF's Statistics:
| | | | | |
| --- | --- | --- | --- | --- |
| Attack | Defense | Control | Stamina | Speed |
| 60 | 40 | 40 | 110 | 50 |
Ray Capricorn is the twin of Ray Unicorno
The XWBF Tip Allows Capricorn to be All Types at the same time.
The XD125 Is heavier than the D125
Ray Capricorns Owner is Wong Otori -The brother of Tsubasa Otori
This Bey has been beaten a few times.
Ray Capricorn has Four Finishing Moves
Ray Capricorns Element is Fire
Ray Capricorn has a mind of its own
Ad blocker interference detected!
Wikia is a free-to-use site that makes money from advertising. We have a modified experience for viewers using ad blockers

Wikia is not accessible if you've made further modifications. Remove the custom ad blocker rule(s) and the page will load as expected.