Dragon Blaze L:P is a bey with mighty power! The name blaze comes from its explosive power. It likes to blow things up in order to win battles. If you own this bey you must be hotheaded to control its power. If you are a mature person this bey will eat you alive! This bey is a attack type bey. This bey only glows at night. Dragon Blaze L:P also has reverse rotation. Dragon Blaze L:P has a launcher alike L-Drago's launcher. The only difference is that it is purple. This beyblade is very heavy. If you compare the weight of it to the other beys. You will highly consider it heavy.
Facebolt: Blaze
Edit
Blaze facebolt is a glowing red facebolt with a purple glowing dragon on it. The glowing purple dragon has a name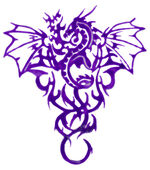 written across it saying Blaze. This facebolt was made by
ColeDaBest
's father.
4D Energy Ring: Blaze
Edit
Blaze energy ring is glowing purple. It has a a red bomb sticker on the top in front of the facebolt. This to was made by his father.
Fusion Wheel: Dragon
Edit
Dragon fusion wheel is the only part of this bey that doesn't glow. It is spiky that way when it attacks it can rip off the parts of the bey. This fusion wheel is red.
4D Performance Tip: L:P
Edit
This performance tip has a metal end. On top of it is purple glowing metal.
Abilities
Edit
Dragon Claw: This rips apart some of the other bey's fusion wheel. When Dragon Blaze L:P uses this move he is at least 4 inches from the other bey. When this ability is performed the whole bey turns purple. It turns purple because it is almost to the peak of its power. The blades on the fusion wheel get sharper. Which makes the other bey take even more damage than usual.
Super Burst: Super Burst is an attack that goes full force at the other beyblade. It goes directly to the middle of it. This attack will rip any weak spots. Once being hit with this it will be hard to continue spinning.
Emperor Blaze Dragon: This is the most powerful of all of Blaze's abilities. The sky turns a blackish purple and it is hard for the other bey to see. This attack bursts in to rays going into the soul of the bey. Tearing everything apart.
Special Moves
Edit
Explosive Dragon
: This attack explodes and will nearly destroy the whole city that it has been released in. This attack starts off in the palms of ColeDaBest's hands.
THIS STATS IS OBSOLETE AND NO LONGER USED.
Dragon Blaze L:P's Statistics:
| | | | | |
| --- | --- | --- | --- | --- |
| Attack | Defense | Control | Stamina | Speed |
| 80 | 50 | 40 | 120 | 50 |
Ad blocker interference detected!
Wikia is a free-to-use site that makes money from advertising. We have a modified experience for viewers using ad blockers

Wikia is not accessible if you've made further modifications. Remove the custom ad blocker rule(s) and the page will load as expected.