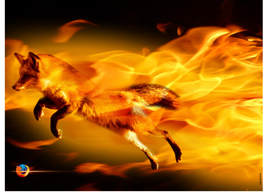 Blaze Fox M:W
is an Attack-Type Beyblade owned by TyphlosionMaster1. It is the evolution of
Fire Fox X:D
.
Face Bolt: Fox
Edit
The Face Bolt depicts "Vulpecula", one of the 88 constellations in space. Vulpecula is Latin for "little fox". It is represented by a goose (Anser) in the jaws of a fox. The design features a fox's head with the left side representing an angel while the right side represents a demon on a purple Face Bolt.
Energy Ring: Fox
Edit
Fox has claw-like ridges going around the Ring in a circular format while blue in color. It looks very similar to Beafowl and Aries. And if you look closely, you can see two Fox heads.
4D Fusion Wheel: Blaze
Edit
4D Performance Tip: Metal Wing
Edit
Ad blocker interference detected!
Wikia is a free-to-use site that makes money from advertising. We have a modified experience for viewers using ad blockers

Wikia is not accessible if you've made further modifications. Remove the custom ad blocker rule(s) and the page will load as expected.