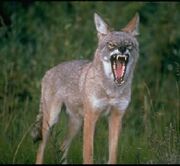 Apocalypse Coyote P:S is an attack type owned by EpikC, made by his friend, FastBlade5035.
Face: Coyote
Edit
The face on this bey is Brown with a gold print. It deplicts a coyote facing the right, bearing it's fangs.
Ring: Coyote
Edit
The coyote ring is basically the Wolf ring, only a trans brown and a bit wider.
Wheel: Apocalypse
Edit
The Apocalypse wheel is very jagged, with tons of bumps, or small fangs. It is medium weight, a bit longer than Bigbang, and sits reasonably high. It has exellent power, and has a secret, apocalyptic power dwelling inside.
4-D Tip: Pouncing Stance
Edit
P:S is a very simple tip... It is as tall as a TH170WD combo, and starts as a Quake tip. On command, it changes to a Rubber Metal Sharp. Therefore, as an attack type, P:S should be used in Q mode most of the time.
Ad blocker interference detected!
Wikia is a free-to-use site that makes money from advertising. We have a modified experience for viewers using ad blockers

Wikia is not accessible if you've made further modifications. Remove the custom ad blocker rule(s) and the page will load as expected.